Welcome to the Corbin Dental location near you in Bayside, New York. We are your Bayside dental practice and full-service family dentistry for all of your dental care needs. This includes restorative dentistry for patient's with missing or damaged teeth and cosmetic dentistry treatments for patients who want to improve the appearance of their smile.
Corbin Dental in Bayside is a family owned and operated Bayside dentist office for patients of all ages. Our team, which you will meet below, is committed to improving smiles through patient-focused comprehensive dentistry. Furthermore we take a team approach to your dental care. We ensure your visit and treatment is tailored to suit your dental needs.
Restore Balance To Your Smile at our Bayside Dentist Office
Achieving a balanced, functional smile is essential to maintaining the best oral health. Firstly, as experienced dentists in Bayside NY, our team understands the importance of building a stable and healthy smile. Secondly, we provide comprehensive dental care to all of our patients that want to improve the overall health and function of their smile. This means that you can receive ALL of the dental care services you need under one roof.
Thirdly, our office takes a modern and comprehensive approach to dental health. By using advanced laser and digital technology we are able to foster a more interactive patient experience. We build an in-depth personalized treatment plan with your input to deliver exceptional dentistry to each of our patients.
Dental Services in our Bayside Dental Practice Include:
We take the time to understand your needs and explore all viable options. Your comprehensive treatment plan never includes unnecessary services. Whether you require repair for damaged teeth, tooth replacement for missing teeth, or full mouth rehabilitation, our team at Corbin Dental in Bayside can deliver the dental care you need near you. Next learn about our patient resources below.
Patient Resources
To learn more about our Bayside dentist office near you, explore all relevant information including insurance, contact information, and our dental services. Most importantly, our goal is to help each of our patients make the most out of their dental visit.
Welcoming New Patients in Bayside, NY
If you are searching for an experienced dentist near you in Bayside, NY, we invite you to visit our team at Corbin Dental. Our team can work with you to improve your natural smile. In addition we offer convenient office hours, a full range of dental services, and advanced dental technology to help create the ultimate patient experience. If you would like to schedule an appointment, contact our dental office in Queens NY today.
Bayside Dentist Office Near You
204-17 35th Avenue
Bayside, NY 11361
New patients can call our office at: (718) 395-3458
Current patients can call our office at: (718) 631-7051
Office Hours
Monday: 9:00 AM – 6:00 PM
Tuesday: 10:00 AM – 7:00 PM
Wednesday: 9:00 AM – 4:00 PM
Thursday: 9:00 AM – 7:00 PM
Saturday: 8:00 AM – 2:00 PM
Meet Our Bayside Dental Care Team
Dr. Diana Abramova, DDS: Your Dentist in Bayside, NY
Dr. Diana Abramova is a graduate of New York University College of Dentistry and completed her general practice residency training at New York Presbyterian-Cornell. Dentistry is not just a profession to her but a way to express her artistic creativity. Dr. Abramova is focused on personalized dental care and unfaltering attention to her patient's needs at our Bayside dentist office.
Click here to learn more about Dr. Abramova.
---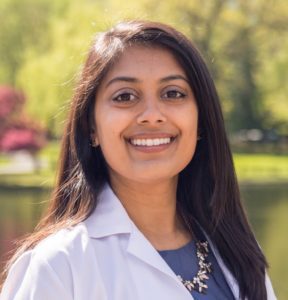 Dr. Meghana Sharma
Dr. Meghana Sharma was born and raised in Monmouth County, New Jersey with her family. She pursued her education at Emory University, majoring in Economics, and continued her graduate studies at Tufts University School of Dental Medicine.
Following dental school, Dr. Sharma moved to New York City and completed a general practice residency program at Montefiore Hospital. Since then, Dr. Sharma has moved to Brooklyn and enjoys picnics in parks with her puppy, traveling to new places, and cooking.
Dr. Sharma is a member of the American Dental Association, New York Dental Association and Massachusetts Dental Association. She is certified in Invisalign and is constantly striving to learn the newest techniques in dentistry. Furthermore she is also a member of the American Academy of Facial Esthetics and is certified to do botulinum toxin injectables to treat orofacial asymmetries and TMJ pain.
---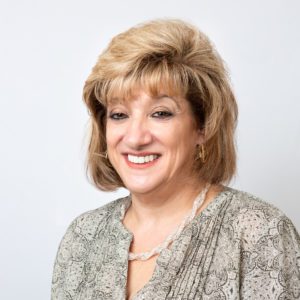 Mary Scaretta: Office Manager
Mary has been in the dental field for over 40 years and with the Corbin Family for over 24 years. You can always see Mary welcoming patients in with warm hugs and a smile because she considers them as part of our family.
The most rewarding aspect of her job is watching her patients smile transform throughout their dental process and knowing that she had a part in changing their life. Mary has a 24-year-old son that means the world to her and in her spare time, she enjoys gathering with her friends and family for wonderful home cooked meals.
---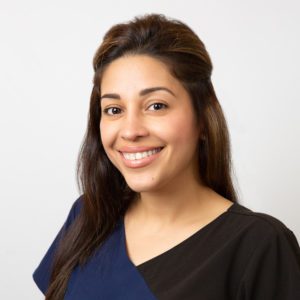 Diana Betancourt-Arboleda: Registered Dental Hygienist
Diana graduated from the Dental Hygiene Program at the New York City College Of Technology, where she served as Vice President of the Student American Dental Hygiene Association. She is certified in CPR, administering Local Anesthesia and Nitrous Oxide. So she will provide a comfortable and stress-free dental experience.
In addition, Diana is an adjunct professor at NYCCT where she teaches the clinical principals of Dental Hygiene. Her passion for helping and educating others on their oral health and providing a beautiful and healthy smile is her #1 priority.
Diana received her bachelor's degree in Marketing and International Business from St. John's University before becoming a Dental Hygienist. When Diana is not caring for patients or traveling the world, she loves to spend every minute with her son and husband.
---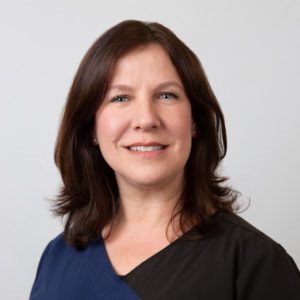 Michele Wittleder: Registered Dental Hygienist
Michele graduated with honors from the SUNY School of Dental Hygiene at Farmingdale in 1996. She has been in the dental field for over 30 years and with the Corbin family for over 18 years. Warm-hearted and gentle are just a few words to describe her as she makes your cleaning experience comfortable and peaceful.
---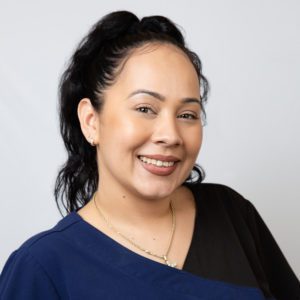 Jennifer Rosario: Dental Assistant
Jen has always had a passion for the dental field. She enjoys helping change each patients lives, one smile at a time! She has two girls whom she calls her princesses and enjoys taking them to the park, the pool and teaching them new tasks every day.