Find missing teeth replacement options here at Corbin Dental! The dentists at Corbin Dental in Bayside, NY will recommend immediate replacement if you need to replace lost teeth. After a full mouth examination, we will suggest the best solution for you and your needs. Replacing your missing teeth is essential for your health and well-being.
Missing Teeth Replacement Options
No matter how many teeth you are missing, we offer surgical procedures and non-surgical solutions to replace them. One of our expert dentists will perform a comprehensive evaluation and make recommendations for the best options to replace missing teeth. We will support your needs and wants with long-term results that do not affect surrounding teeth.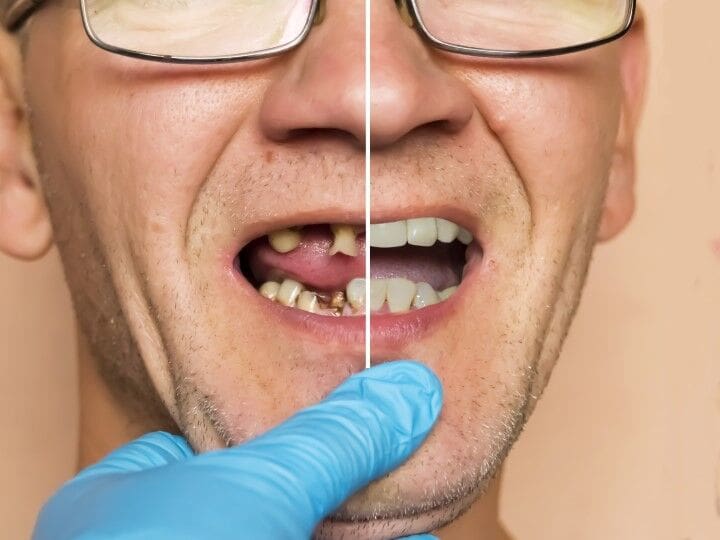 Dental Implants
A dental implant-supported restoration is the only solution that will replace teeth at the root. Dental implants are actually tiny titanium posts. The restoration provides enough stimulation for the bone to regenerate. For a single missing tooth, we place one implant to support a dental crown.
For multiple missing teeth, we place two to eight implants to support a dental bridge or denture. Corbin Dental offers All-On-Four implants which is a relatively new dental restoration solution that attaches a denture permanently to your jaw. All-on-four is one of the best tooth replacement options for patients with old dentures.
Dental Bridge
Dental bridges have been used for years to replace one or two missing teeth and are a sufficient solution. This dental restoration is made up of two dental crowns located on each end, with the replacement tooth located in the middle (the pontic). The procedure to place them requires the adjacent teeth to be ground down to accommodate the bridge.
The greatest downfall of choosing a dental bridge is that they do not replace the teeth at the root and you will slowly suffer from jaw bone loss. However, you can with an implant supported bridge.
Dentures
A traditional, removable denture or removable partial dentures are a sufficient solution if you are missing an entire row of teeth. They will help restore basic function and aesthetics. A denture is a set of fake teeth that is fused to a base that will rest on your gums or the roof of your mouth.
This solution will not replace the teeth at the tooth root, and jaw bone loss is eminent. They require an adjustment period and many people report that they feel bulky in their mouth. Denture wearers must also adhere to strict eating restrictions.
The Importance of Replacing Missing Teeth
Missing teeth, even if it's just one, can affect your health and the aesthetics of your smile. For the sake of your oral health and self-esteem, it is very important to replace them as soon as possible. When a tooth goes missing, the jaw bone will slowly begin to deteriorate around natural teeth.
The bone relies on teeth roots to provide continuous stimulation so it can regenerate. Without teeth, bone resorption is inevitable. Also, when the bone begins to shrink, your lips will begin to appear sunken in, the chin to appear longer and wrinkles will form. These changes will affect your overall appearance and make you look older than you really are.
The gaps along your arch created by lost teeth can also lead to shifting. A full arch of teeth is necessary to help hold them in the proper position. When teeth are lost, the remaining teeth will begin to shift towards the gaps. This shift can lead to bite problems such as a painful TMJ disorder.
Missing teeth and teeth that have shifted out of place also make it difficult to keep the remaining teeth properly cleaned. This will make you more susceptible to gum disease, tooth decay, and even additional tooth loss.
Missing teeth can also affect your appearance and how you feel about yourself. Many of our patients with lost teeth are too embarrassed to smile or speak. Replacing missing teeth will help eliminate this low self-esteem and embarrassment.
To learn more about your missing teeth treatment options and which replacement solution is best for you, schedule a consultation today. Call Corbin Dental, a Bayside Dentist, at (718) 631-7051.
Our practice at Corbin Dental at Bayside thrives on the shared experiences of our patients. If you're giving thought to our dental services or want a snapshot of our patient care, our GBP reviews serve as a window. Peek through them here: Corbin Dental at Bayside Reviews. We remain ever-driven by your trust and insights.