SNAP-ON-SMILE AT CORBIN DENTAL
Are you ready for a new smile that we can build with no need for shots or drilling?
Snap-On Smile® is the perfect solution for patients with missing teeth, damaged teeth or cosmetic concerns. It is also great for patients who are not ready to make the commitment of more permanent and complex cosmetic dental treatments. It is a great temporary option to hide tooth stains, chips, gaps between teeth, or missing teeth. However, it does not damage your gums or cover the roof of your mouth.
Snap-On Smile is an economical and unique way to makeover the appearance of your smile, customizable to achieve the look your desire. Corbin Dental is your local Snap-On Smile provider in Long Island. Our dentists help patients of all ages get a beautiful new smile with this cosmetic treatment option.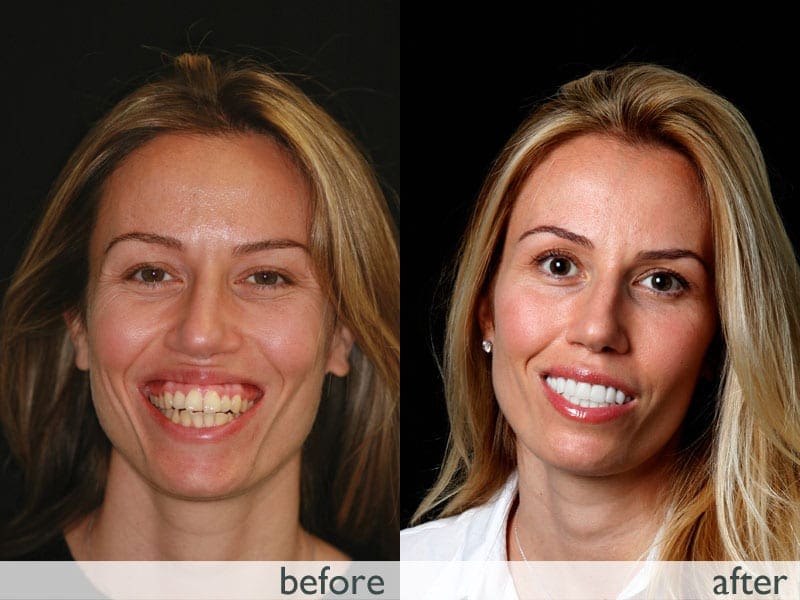 WHAT IS SNAP-ON SMILE®?
Snap-On Smile® is a removable oral appliance. It is a non-invasive cosmetic treatment that snaps right over your existing teeth. You can remove it to brush, floss, and care for your natural teeth daily to maintain great oral health. The custom prosthetic teeth are a thin resin material that is comfortable to wear and low-profile. It will attach to your natural teeth without the need or use of an adhesive. Snap-On Smile uses your unique dental impressions and a personalized profile that we build to create the prosthetic teeth.
The process for receiving a Snap-On Smile is simple. We complete the entire process in about 2 to 3 visits to our Bayside or Oyster Bay dental offices. The first visit is a consultation to discuss your needs. There, we will present treatment options and costs for your consideration. During this visit or the next, we will take dental impressions and digital diagnostics, which we use in the creation of your customized smile. The final visit is when we attach your new Snap-On Smile to your existing teeth. We will go over the specifics of caring for both your natural smile and your new appliance.
Your Snap-On Smile device will last for several years or more with proper dental hygiene and routine care. We will monitor the condition of your new appliance every time you visit. Our dental team works with you to maintain oral health and a comfortably fitted smile.
SNAP-ON SMILE® FAQS
Can you eat and drink with Snap-On Smile?
Patients can eat and drink normally with Snap-On Smile, although some foods may be more difficult to chew than others. Snap-On Smile may take some adjusting to before patients are comfortable eating regularly.
Can you wear Snap-On Smile everyday?
Yes! You can wear your Snap-On Smile oral device all day, everyday. However, you must be conscious about cleaning your device regularly. We recommend that patients clean their appliance at least once a day. Make sure you rinse or brush your teeth after every meal before putting your device back on.
How does Snap-On Smile stay in place?
Snap-On Smile stays in place with force to fit your smile perfectly. It does not require adhesive and is non invasive. Because we take an exact mold of your teeth, the device will have perfect points of attachment to keep it in place. It will fit snug against your teeth, and not budge or wiggle.
Who is the best candidate for Snap-On Smile?
There are a number of people who could benefit from the Snap-On Smile. The best candidates for Snap-On Smile are people who have a gap between their teeth that they want to fill. The system is also good for people with missing teeth or those who have recently had tooth removal surgery.
SCHEDULE A DENTAL EXAM TODAY
You're never fully dressed without a smile, says an old song, but a crooked smile can be just as disastrous for your image as a badly-fitting outfit. If your smile could be your best feature with just a little work, our cosmetic dentists can straighten and whiten your teeth, repair chips and cracks, and hide gaps with Snap-On Smile®. With today's advancements in cosmetic dentistry, you can have perfect teeth in just a few visits to our dental office.
Ready for a new smile? Corbin Dental has two convenient dental office locations in Bayside and Oyster Bay. We welcome new patients and provide tailored dental care for all ages.