Corbin Dental offers many types of dental implants for people who suffer from tooth loss. From the initial consultation to the placement of the final restoration, Dr. Richard Corbin and Dr. Bruce Corbin provide complete, advanced implant dentistry services all under one roof. Our dentists in Jackson Heights, NY are equipped with advanced digital imaging technology for proper placement and excellent results. Teeth implants are the most recommended solution for missing or damaged teeth by dentists. They are more natural looking and function better than traditional solutions such as dental bridges or removable dentures.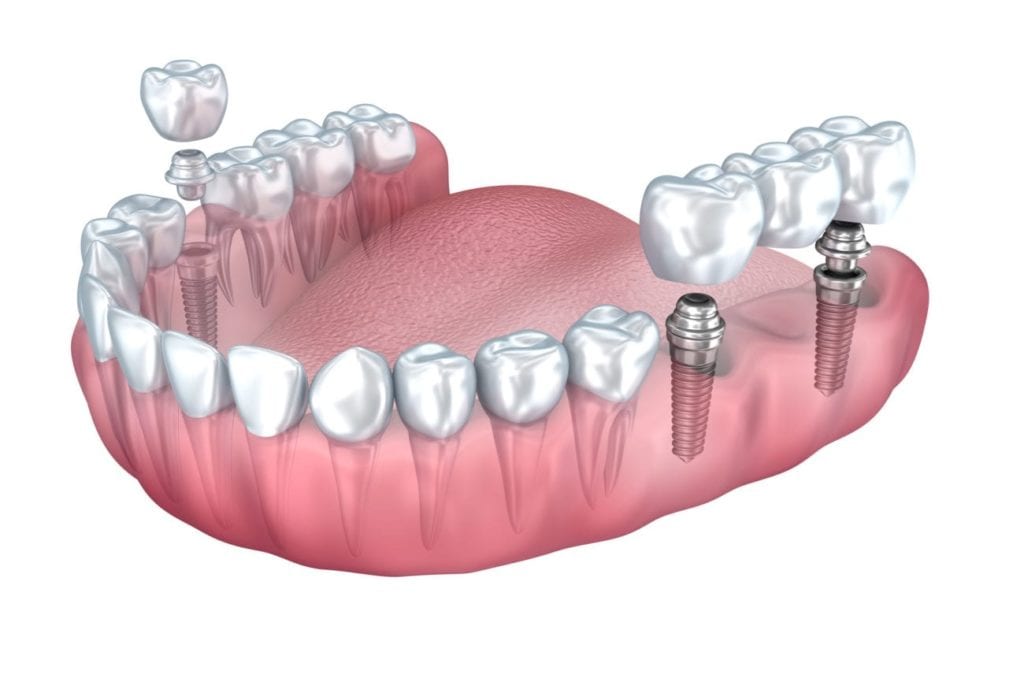 About Dental Implants in Jackson Heights, NY
A dental implant is a small, metal post that looks a lot like a screw. One or more of them are surgically implanted into the jaw bone and, over a period of time, will fuse with the surrounding bone to create a sturdy base to anchor the new teeth. They will support a dental restoration that will be custom made to blend in naturally with your smile. These implants will also serve as a replacement tooth root, providing stimulation for the jaw bone thus preventing bone deterioration.
The first step in the implant process is to have them surgically placed in the jaw bone. There is a healing period of 3-6 months where all the soft tissues can heal and the bone will integrate with the new post(s). After this healing period, the final dental restoration will be attached to the implants. The surgical procedure and restoration placement will take place in our Jackson Height, NY dentist office.
Dental Implant Replacement Options
Whether you are missing one, a few, or an entire row of teeth, we can devise a solution to replace them with dental implants. The type of restoration used will depend on how many teeth you are missing and their location.
Missing one tooth: If you are only missing a single tooth located anywhere in your mouth, an implant supported dental crown will be used to replace it. In the past, the best option available was a dental bridge. This treatment involved grinding down the two adjacent teeth on each side of the gap. These prepared teeth would be used as anchors to hold the bridge in place. A single dental implant supported crown will not involve damaging additional teeth just to replace one tooth.
Missing several consecutive teeth: If you are missing several consecutive teeth, your Jackson Heights, NY dentist will use an implant supported dental bridge to replace them. Traditionally, several consecutive teeth could be replaced with a partial denture or a fixed dental bridge. A fixed dental bridge involves compromising healthy teeth and partial dentures are known to be inconvenient and uncomfortable. They are made of metal claps that are visible and limit the types of food you can eat. Implant supported bridges do not compromise the structure of remaining healthy teeth. The implants are placed on both sides of the gap providing a strong base for the bridgework.
Missing a whole row of teeth: If you are missing an entire row of teeth, dental implant supported dentures can be used as a natural replacement option. If you are currently wearing removable dentures and they are not working out, you should also consider implant dentures. Dentures are known to be unstable and uncomfortable. Using as little as four dental implants, your Jackson Heights, NY Dentist can secure a denture that is durable and better for your oral health. You will be able to enjoy a diet without restriction and feel more confident about your smile.