WHY REPLACE MISSING TEETH?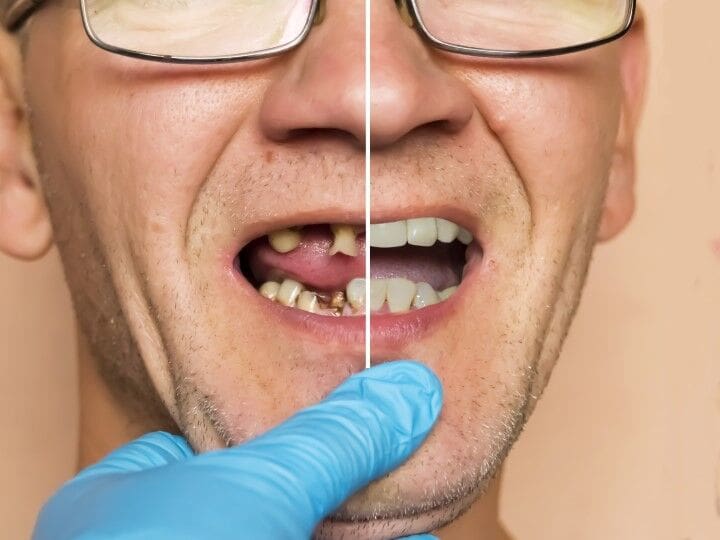 Missing teeth impact many aspects of your overall dental health and your quality of life. When you lose teeth due to trauma or poor oral health, it can set off a chain of dental problems. When a tooth is lost, the surrounding tissue eventually absorbs the tooth's root. This can lead to changes in the structure of your jawbone, and the jaw can begin to shrink inward. Missing teeth also increase your risk of developing gum disease and other changes in oral health. For example, remaining teeth begin to shift and infections can take hold of your gums.
In addition to oral health concerns, missing teeth can impact your self-confidence and ability to enjoy life to the fullest. For many patients with one or more lost teeth, it can be challenging to chew certain foods. Your diet may become limited over time, which can affect your nutrition and overall wellness. More examples include speech impediments, create embarrassment over the appearance of your smile, and impact the way you socialize.
From cosmetic dentures and bridges to implant dentistry, we can meet your health and aesthetic goals with missing teeth replacement options. Corbin Dental is home to a team of highly-trained and experienced dentists who provide treatments for tooth replacement. Our dentists can replace missing teeth for patients of all ages.
TOOTH REPLACEMENT AT CORBIN DENTAL: WHAT ARE MY OPTIONS?
The key to a smile that looks great and lasts for a lifetime is choosing the best solution for your dental health needs and cosmetic goals. Dr. Richard and Dr. Bruce Corbin are leading local dentists for restorative and cosmetic dental treatments. Corbin Dental can offer patients with missing teeth the opportunity to receive comprehensive, personalized dental care under one roof.
We take the time to evaluate all aspects of your oral health and discuss your concerns, goals, and budget. Our dentist will work with you on an individual basis to create a treatment plan that supports long term dental health.
Dr. Bruce and Dr. Richard Corbin have advanced training in implant dentistry, and years of experience helping patients restore beautiful, healthy and functional smiles after tooth loss. We offer a range of tooth replacement options, including:
Dental implants: A modern dental technique to replace lost teeth permanently and securely.
Dentures and partial dentures: A traditional dental treatment for lost teeth. Dentures can be removable or fixed into position.
Dental bridges: Another traditional method of replacing missing teeth with a removable oral appliance.
Implant dentures and All-On-Four dentures: A relatively new dental restoration of attaching a denture permanently to your jaw.
SCHEDULE A DENTAL EXAM TODAY
Ready to restore your smile and replace your missing teeth? Corbin Dental has two convenient dentist office locations serving the Queens New York area in Bayside and Oyster Bay. We welcome new patients and look forward to helping you enjoy your best quality of life with a new smile. Contact your local Queens NY dental office to schedule an appointment and learn more about your options for replacing missing teeth.
DISCOVER YOUR BEST SMILE
Book Your Appointment Today
Corbin Dental in Bayside and Oyster Bay are a family owned and operated Bayside and Oyster Bay dentist offices for patients of all ages. Our team is committed to improving smiles through patient-focused comprehensive dentistry.
NAVIGATION LINKS
CONTACT INFO
facebooktwitterinstagram