Porcelain veneers are popular dental restorations used by patients who are unhappy with the appearance of their smile. Whether you are trying to make dramatic or subtle changes to your smile, dental veneers can deliver results that will feel comfortable and look natural. Cosmetic dentists, Drs. Richard and Bruce Corbin are committed to helping patients at their Bayside, NY dental practice achieve their best smile with teeth veneers.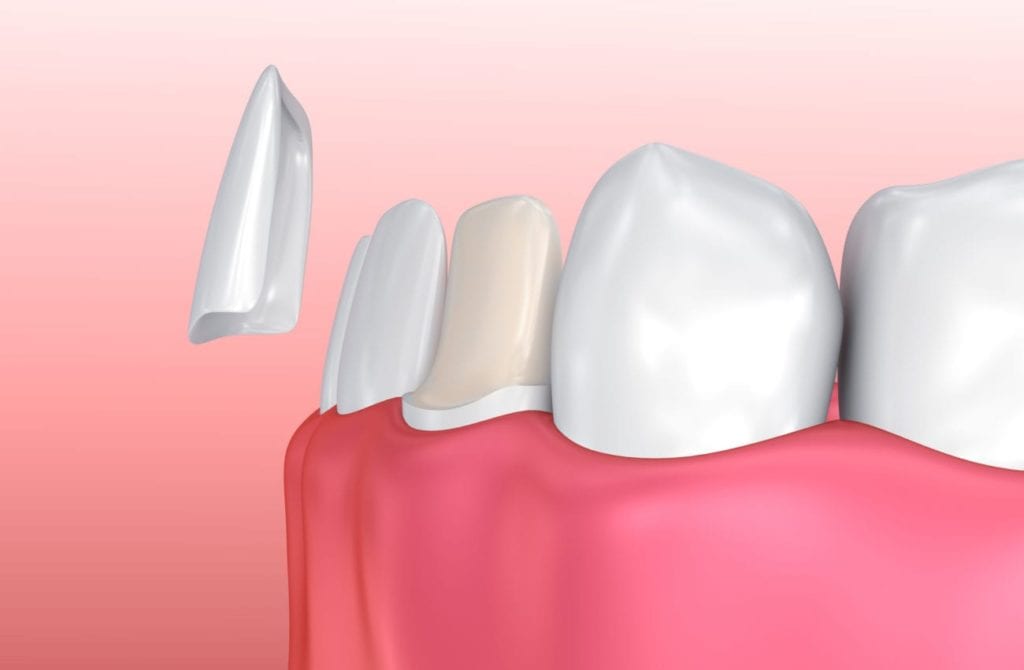 What Are Porcelain Veneers?
Porcelain veneers are thin, layers of porcelain that will cover the front and sides of teeth to alter their appearance. Each veneer will be custom made to mold on to the tooth for a flawless, natural looking fit. They are very durable dental restorations that will be bonded to the teeth to enhance aesthetics and function. A dental veneer can be used to treat one tooth or several teeth.
The Benefits of Porcelain Veneers
The dentists at Corbin Dental in Bayside, New York can use porcelain veneers to address many dental concerns. Dull, aging teeth that are worn down can be brightened and reshaped with teeth veneers instantly dropping years from your smile and appearance. They can be used on teeth that have been accidentally broken or chipped to disguise the damage.
Stained, discolored, or yellow teeth that do not brighten with teeth whitening can also be covered with veneers. Many of our patients that want straight teeth but do not necessarily need braces can use this cosmetic dentistry treatment to attain a straighter smile.
Porcelain veneers are very popular because they will blend in perfectly with the rest of your smile. It is virtually impossible to distinguish between them and your natural teeth. They are stain resistant (even from coffee, tobacco, tea and wine) because they are made from high-quality ceramic.
To maintain a proper bite and ensure you can eat properly, your dentist will make sure the veneer is perfectly molded to the tooth. The bond between the tooth and dental veneer is very strong. As a very durable cosmetic dental treatment, the porcelain veneer should last a long time.
Are Porcelain Veneers Permanent?
Porcelain veneers are considered to be a permanent dental restoration. This is because a small portion of the tooth's surface will need to be shaved down and that is irreversible. Although, when you compare this treatment to dental crowns, most of the tooth will remain intact. Dental crowns require a significant amount of tooth structure to be removed.
Even though porcelain veneers are strong and durable, they may need repaired over the years. If a veneer endures significant damage, they can easily be replaced as well. They can last 10 to 20 years if cared for properly by the patient.
Porcelain Veneer Process
Your dentist will prepare your teeth by removing a minimal amount of the teeth's surface structure. Dental impressions will be taken and used to create the dental veneers. In most instances, your dentist will place temporary veneers to protect your teeth until the permanent ones are ready.
In two to three weeks at your final visit, the porcelain veneers will be permanently affixed to your teeth. Any minor adjustments are made before to ensure proper look and feel before they are permanently secured to the tooth.