Corbin Dental in Bayside, NY offers all types dental crowns for patients needing a new crown or an old one replaced. A tooth crown is a common dental restoration that typically requires two dental appointments to complete. Commonly referred to as a 'dental cap', a dental crown will fit right over a prepared tooth becoming the new outer layer of the tooth.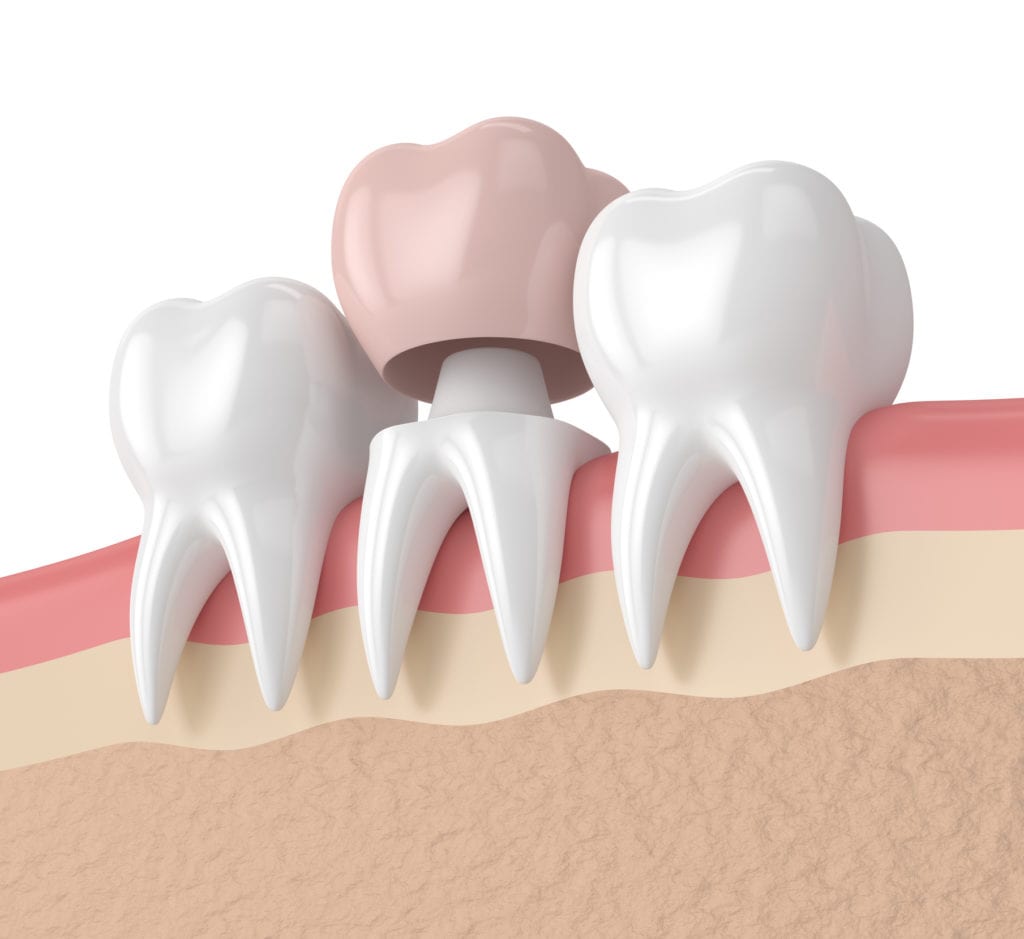 What is a Dental Crown?
A crown is a fixed prosthetic restoration that is used to restore a damaged tooth. It covers the entire tooth like a cap and is permanently bonded into place. Corbin Dental places dental crowns for both cosmetic and restorative purposes. The tooth cap is placed over two visits to our Bayside, NY dentist office.
They are fabricated from impressions of your teeth to ensure a custom fit and permanently cemented into place. Our dentists recommend crowns for restorative and cosmetic reasons including:
To strengthen and protect a tooth after root canal therapy
To protect a weak tooth that is broken or cracked
To replace an old, large cavity that need replaced
To help attach a dental bridge
As part of the dental implant process to replace a single tooth
To cover and whiten yellow or severely stained teeth
To disguise misshaped or crooked tooth
To hide gaps in between teeth
To lengthen teeth that are too short
The Dental Crown Process
The dental crown process will require several trips to our Bayside, NY dentist office. Your dentist will perform a comprehensive evaluation to determine if a tooth crown is right for you. After that, they will prepare a customized treatment plan that addresses your health concerns as well as your cosmetic goals.
During your first crown appointment, your dentist will first need to prepare your tooth. If needed, they will remove the old tooth crown or dental filling. The decay or damaged portion will then be removed as well as enough of the tooth structure to accommodate the tooth cap.
Dental impressions will also be taken at this appointment. A temporary crown will be placed on the tooth to protect it and allow the tooth to function normally while the final restoration is being fabricated.
You will return to our Bayside, NY dentist office in about two to three weeks once your dental crown has been fabricated. Your dentist will remove the temporary dental crown then attach the new, customized crown. Necessary adjustments will be made to assure a comfortable fit before the crown is permanently attached to the tooth.
Your dental crown will be custom made to blend in naturally with the rest of your smile and will only require the same care as your other teeth.
---
A dental crown can serve many purposes, from restorative to cosmetic, providing years of healthy and beautiful smiles. Dr. Richard Corbin and Dr. Bruce Corbin place dental crowns using the highest quality materials and advanced technology. If you have concerns with your oral health and would like to discuss your concerns, schedule an appointment in our Bayside office for a thorough dental exam and evaluation.